Admit it. We've all seen the magical photos of all the celebrity brides at their weddings and envied all the clothes they get to wear on a daily basis. High-end designers worked hard to give out results that we see in an endless stream on social media, especially Instagram. 
Amongst all this, there are a few of us who dream of wearing these garments for their nuptials or generally (who doesn't like dressing up?) sans the cost of everything we own!
Don't get me wrong. There are people who couldn't be bothered less by these garments but there are options available for people who really want the celebrity look without burning a hole in their wallets.
Read on, or rather look on (because there will be a lot of pictures involved) how you can achieve these looks on a budget!
DISCLAIMER- The outfits mentioned here are not the exact same as the ones the brides are wearing. It is a suggestion we are making to achieve the exact same look by renting out the designer wear we offer.
Also, we have stylists who are all ears to customize your dream lehenga/saree for you!
1. VIRAT KOHLI- ANUSHKA SHARMA
Although they were married in 2017, the couple celebrated their first wedding anniversary recently on Instagram. Here's a look just in case you had forgotten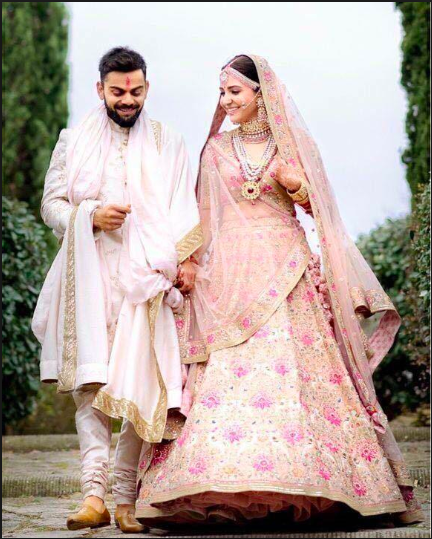 Anushka is wearing a pale pink lehenga which was actually considered a fresh change from the classic red lehengas Indian brides opt for! Made with vintage English colors and Renessaince embroidery, this lehenga was certainly game-changing. 
Our suggestion
For a person who wants to make bold choices for their wedding attire, this Smriti Apparels lehenga is a perfect match for Anushka's wedding look which will make all jaws drop wherever you go. Sequined flowers unfurl themselves on the netted blouse and spill onto the pre-draped dupatta.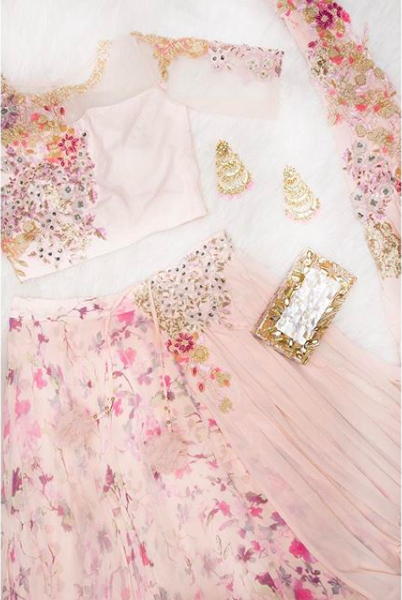 Smriti Apparels is a brainchild of Anju Agarwal and Anushree Agarwal which makes intricately crafted designer wear for both men and women.  They focus on tailoring the ideal wedding attire for the Indian bride. 
We collaborated with blogger Mandeep Kaur who graced this lehenga and made it all better!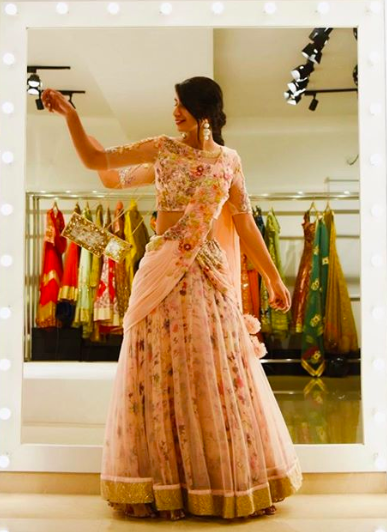 The lehenga whose retail price is ₹46,050 is available for rent at ₹4,600! See? Glam on a budget! 😎
2. VIRAT KOHLI-ANUSHKA SHARMA RECEPTION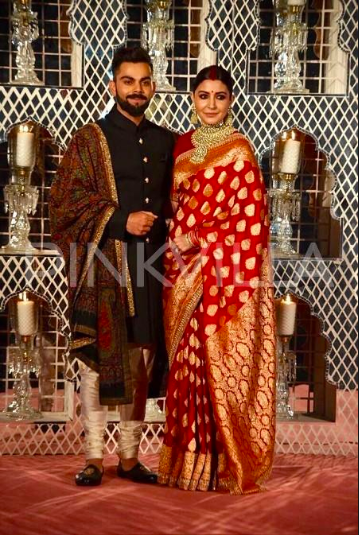 For the reception, Anushka chose a red benarsi saree which is a go-to attire for a Bengali bride. When Anushka chose this saree it was seen as a revival of Indian handloom. The red bindi, mogras, and sindoor complete the look.
Our suggestion
Although the sarees are completely different when it comes to their origin, the Kanchivaram Silk Brocade Saree by Regional Exotica is a beautiful match to the saree Anushka has worn. The pallav has red dots inside diamond shaped structures covering it. The field has Paisley designs prepared in a Gulmohar tree design repeating throughout it.
You can wear this saree to all the high-end events and ooze elegance and grandeur.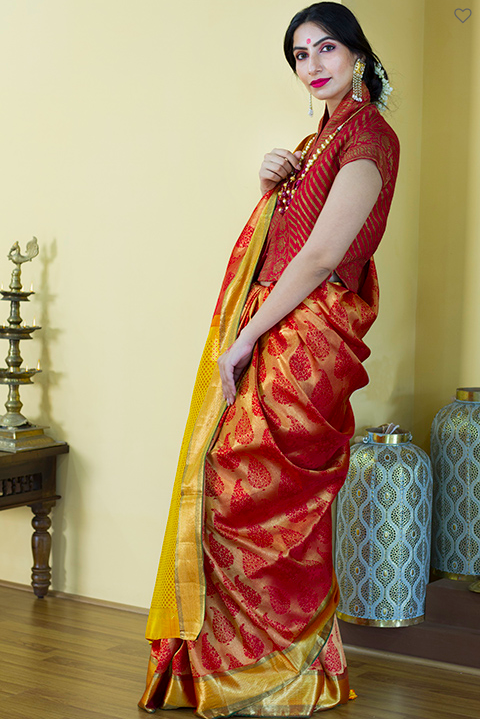 The saree's retail price is ₹28,575 while is available for rent for ₹2900!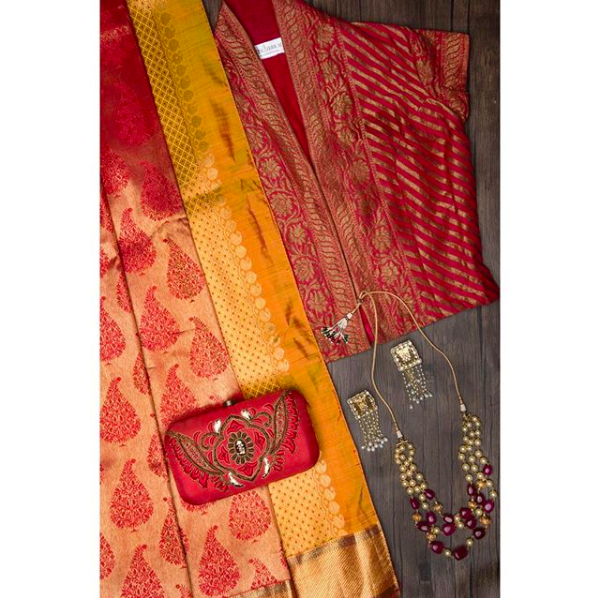 3. DEEPIKA PADUKONE- RANVEER SINGH MEHENDI
Is it just me or did everyone sit tight awaiting the pictures from the most anticipated wedding of the year? Deepika Padukone and Ranveer Singh had a grand wedding at Lake Como in Italy this year and it is a feast to our eyes. For her mehendi, Deepika chose a rose-colored saree which brought out the glow in her face. Deepika once described her wedding as 'magical' in an interview. After looking at all the pictures, we don't doubt!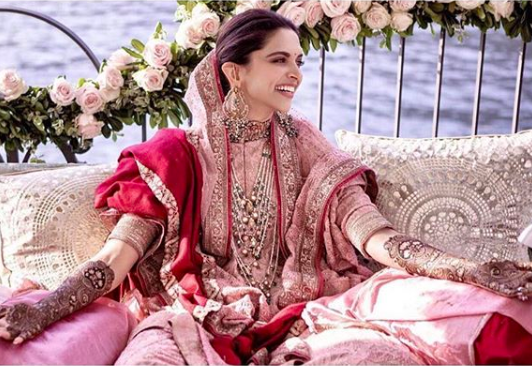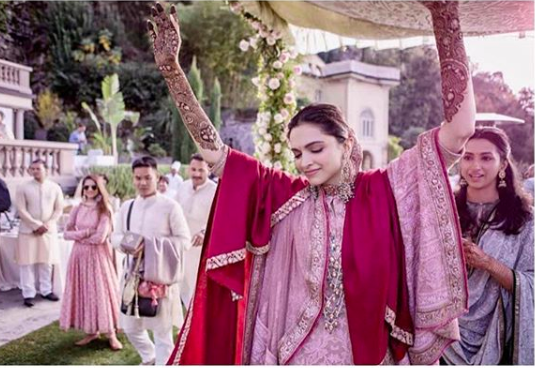 Our suggestion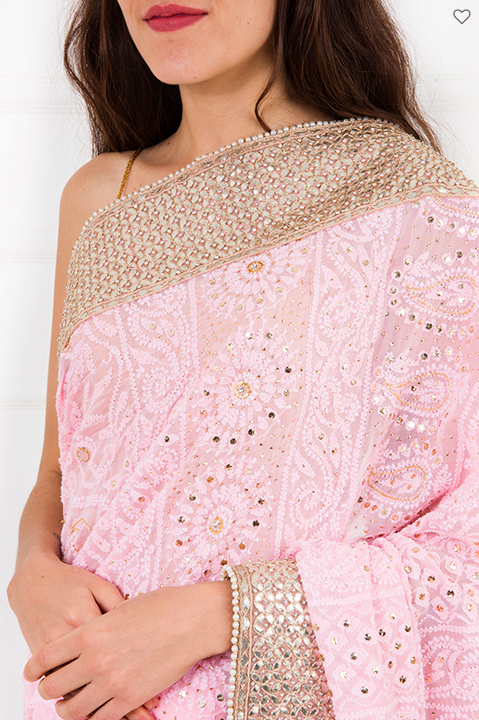 On a light pink Georgette fabric, this Regional Exotica saree weaves a story of Chikan and Gota work. It is a perfect wedding/sangeet look that you can wear and look amazing. Pair it with gold earrings like Deepika and you're good to go!
The retail price for this saree is ₹66,695 but its available for ₹ 6,600.
4. DEEPIKA PADUKONE-RANVEER SINGH WEDDING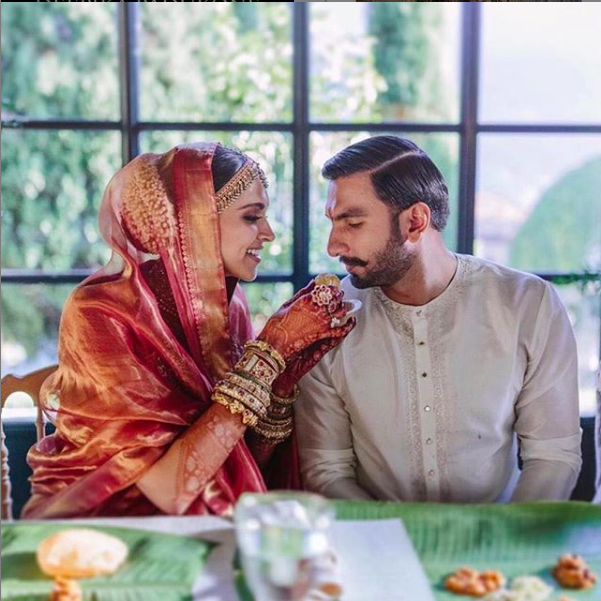 Deepika Padukone wore a Kanjeevaram red gold wedding sari for the Mangalorean wedding ceremony from House of Angadi, Bangalore. She paired it with Sabyasachi jewelry and veil.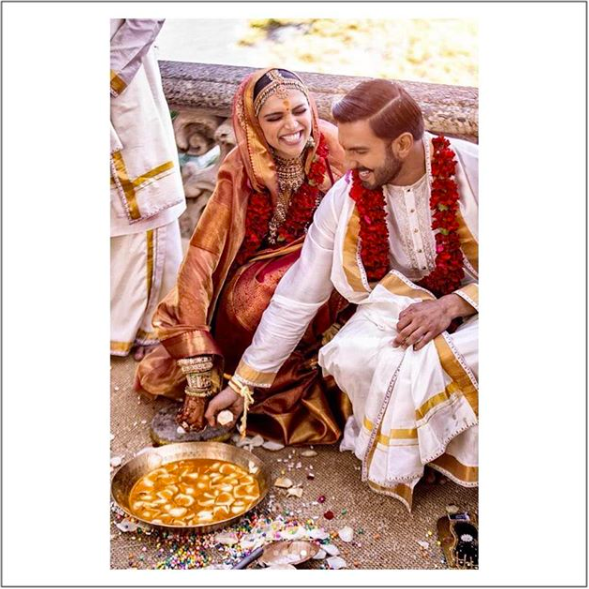 Our suggestion
Again we are crossroads when it comes to the origin of the saree but this Regional Exotica Patola saree is a true match for a regal bride. This one has enigmatic semi-floral motifs repeating throughout its field. Like most other Patolas, there is a thick border running throughout the length of the saree, especially lining the end of the pallav. Pair it up with exquisite jewelry and your look is complete.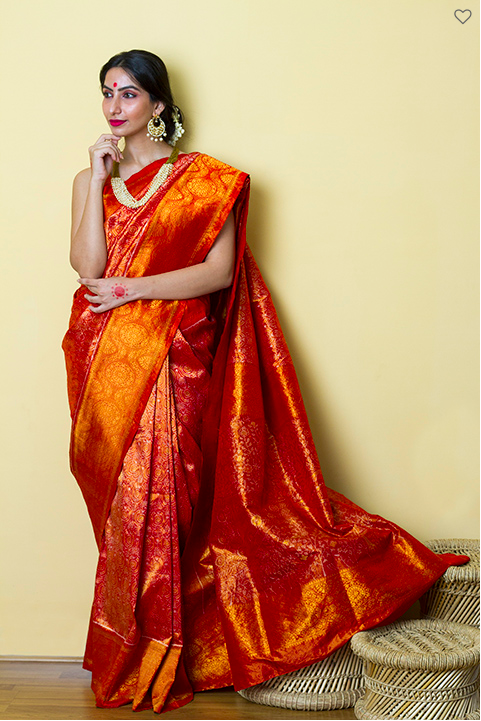 Retail price is ₹ 70,525 while its available for rent ₹ 3,600.
This is the look you want when you're tying the knot!
5. DEEPIKA PADUKONE-RANVEER SINGH BANGALORE RECEPTION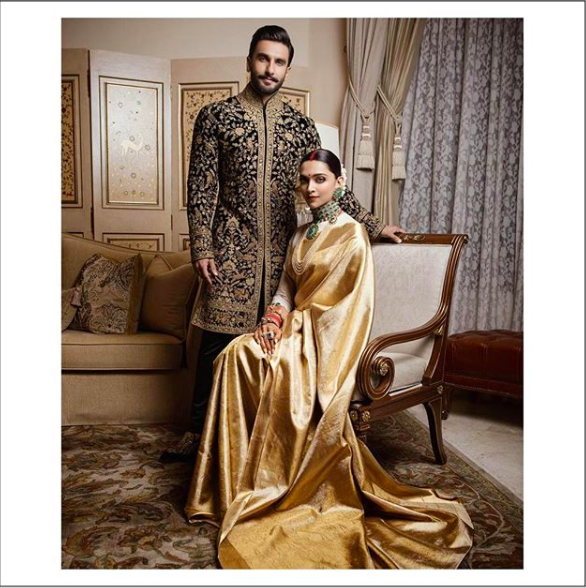 For her first reception. Deepika chose an Advaya pure zari gold Kanjivaram silk saree from The House of Angadi, designed by K Radharaman. Needless to say, she looks ethereal as one could get.
Our suggestion
In this case, we have an extremely close match that can be rented out. It is the Regional Exotica Uppada Silk Saree with real Zari. This is a lightweight saree with subtle floral designs on the body. You can go heavy with accessories like Deepika or keep or minimal. This is a saree that can do both with panache.
This gold saree retails at ₹2,59,975 but is available for rent at ₹ 24,000
6. DEEPIKA PADUKONE-RANVEER SINGH MUMBAI RECEPTION
For a change, the bride chose an Ivory and gold Chikankari saree which is visibly breathtaking. Ranveer's look compliments the bride and if that isn't goals, I don't know what is!
Our suggestion
Designed by Jyoti Sachdev, we have an equally regal lehenga with an extension to its dupatta. The trail leaves behind signs of royalty which is seen in Deepika's look as well. With minimal nude makeup and luxurious jewelry, this look is complete.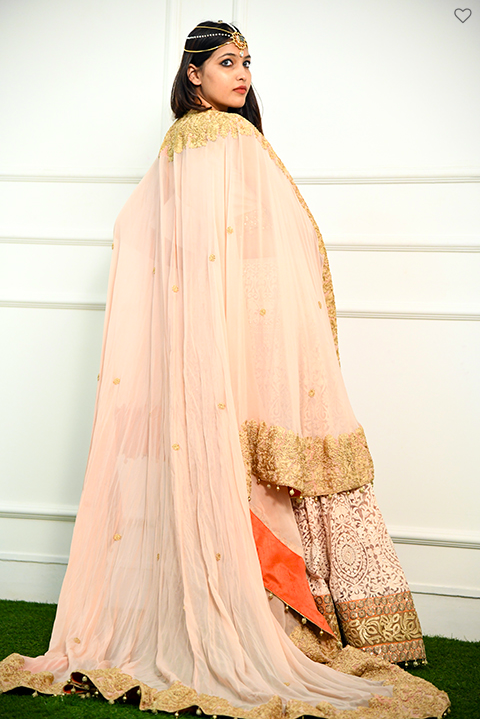 Retail price is ₹ 1,25,000 while the rent for this lehenga is only ₹ 12,500
7. PRIYANKA CHOPRA- NICK JONAS WEDDING
PC surprised us all with this gorgeous Kanauj rose lehenga. It is said that this lehenga took 3720 hours to make by 110 embroiderers.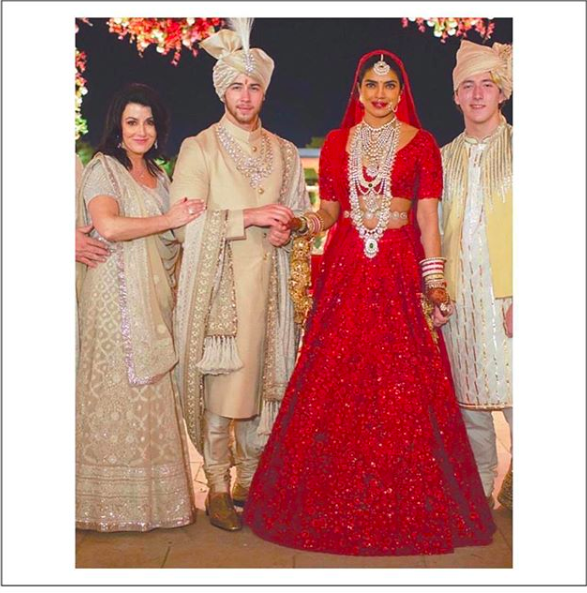 Our suggestion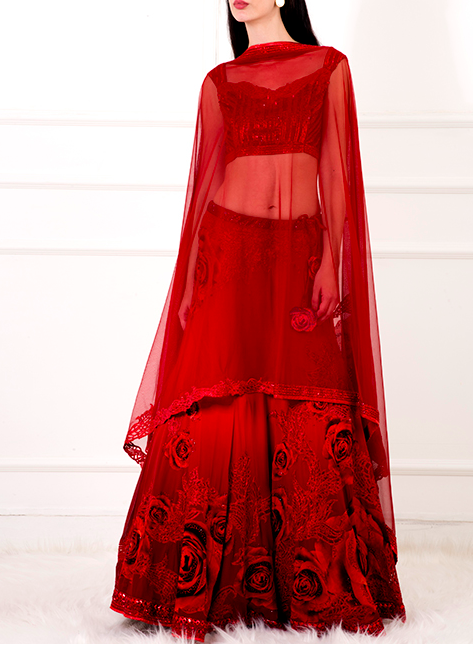 The red bridal lehenga by Satya Paul is definitely a good match for Priyanka's wedding lehenga. The net dupatta is adorned with sequins and thread-work in its border. Its blouse has an embellished neckline that runs till the bust adorned with sequins and embroidered applique.
Established in 1985, Satya Paul is India's premier design label with an international presence. The brand is acclaimed for ingenuity in design and a vivid color palette. Women no longer restrict themselves to hereditary Banarasis and Chanderis; and Satya Paul has been instrumental in bringing about this change with the new-age Saree, which is easy to wear and chic.
Retailing at 59,995 it is available for rent at 12,000.
8. SAINA NEHWAL-P KASHYAP
I did say that Anushka Sharma's choice was a fresh change to the Indian bridal wear, but Saina Nehwal has a good backhand. She chose this stunning indigo velvet embroidered lehenga with pink dupatta for her nuptials and she breathes life into it.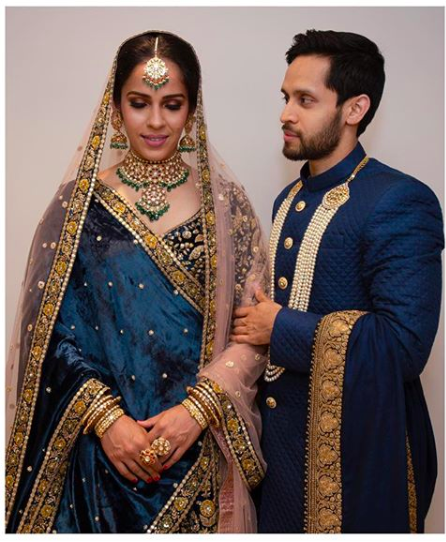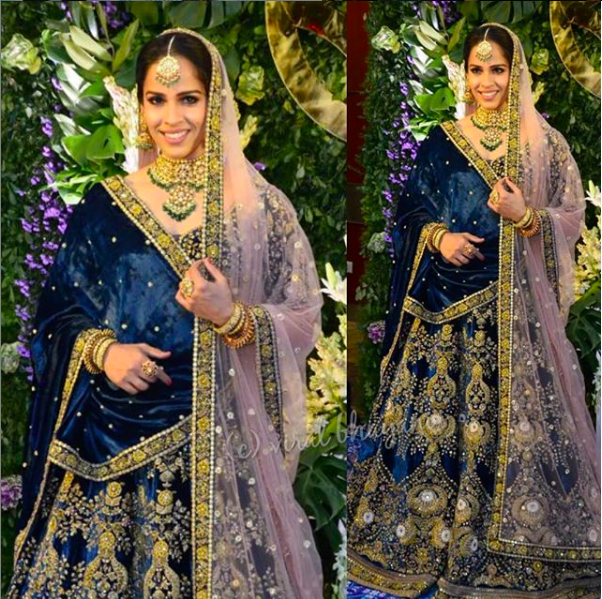 Our suggestion
This Smriti Apparels lehenga is also velvet and royal blue. It is bedecked with golden dori and Dabka embroidery on the velvet surface and is coupled with a light pink embellished dupatta.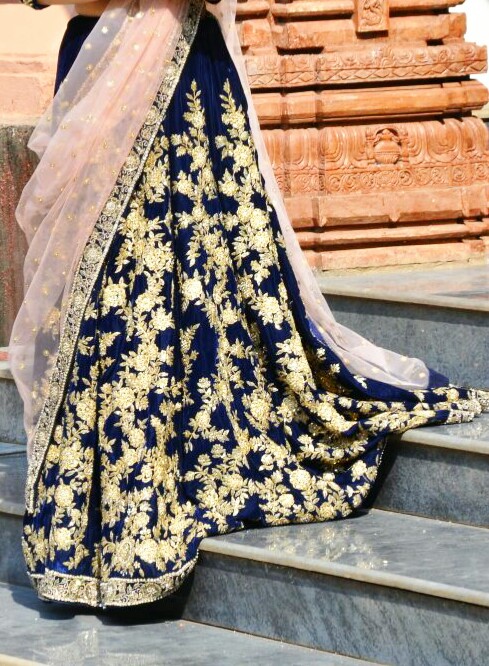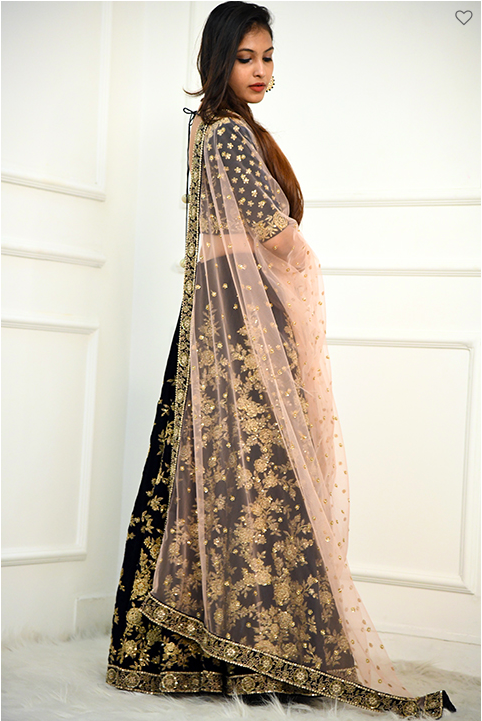 Retailing at 78,450, it is available for rent at 7,800.
Photo credits: Instagram
Comments
comments