Gowns give us that stunning and chic look we always seek, to celebrate or attend any special occasion. A little exaggeration in it is called "being glamorous".
Let's shine on those special evenings – award function, pageant contest, cocktail evening, engagement party, or even your birthday – with a gorgeous collection of gowns! 💃
1. A QUINTESSENTIAL WAVES SCULPTED INTO A GOWN
A very out-of-the-box gown by Ishan Shravika. This garment is the ultimate epitome and for any of your events, you will be the extraordinary glam of the crowd. The quintessential waves of the is an eye delight.
Style tip:- Make your look subtle with minimal statement jewelry.
2. RUFFLED PRINTED TRAIL GOWN
Your search for rare and remarkable couture has been understood by Ishan Shravika, this Ruffled Printed Trail gown is in the house. The mermaid look with a waved silhouette is something not very usual. A very pleasing pick for you.
Style tip:- Accessorize your look with a pair of chandelier earrings.
3. ONE-SHOULDER MERMAID GOWN
Style your events with grace with this One-shoulder mermaid gown label from Amit G T. The ultimate combination of peach color with crepe and tulle is itself a fairy tale.
Style tip:- Dazzle up your look with a Crystal drop earrings pair.
4. BEIGE AND WHITE FLORAL EMBROIDERY GOWN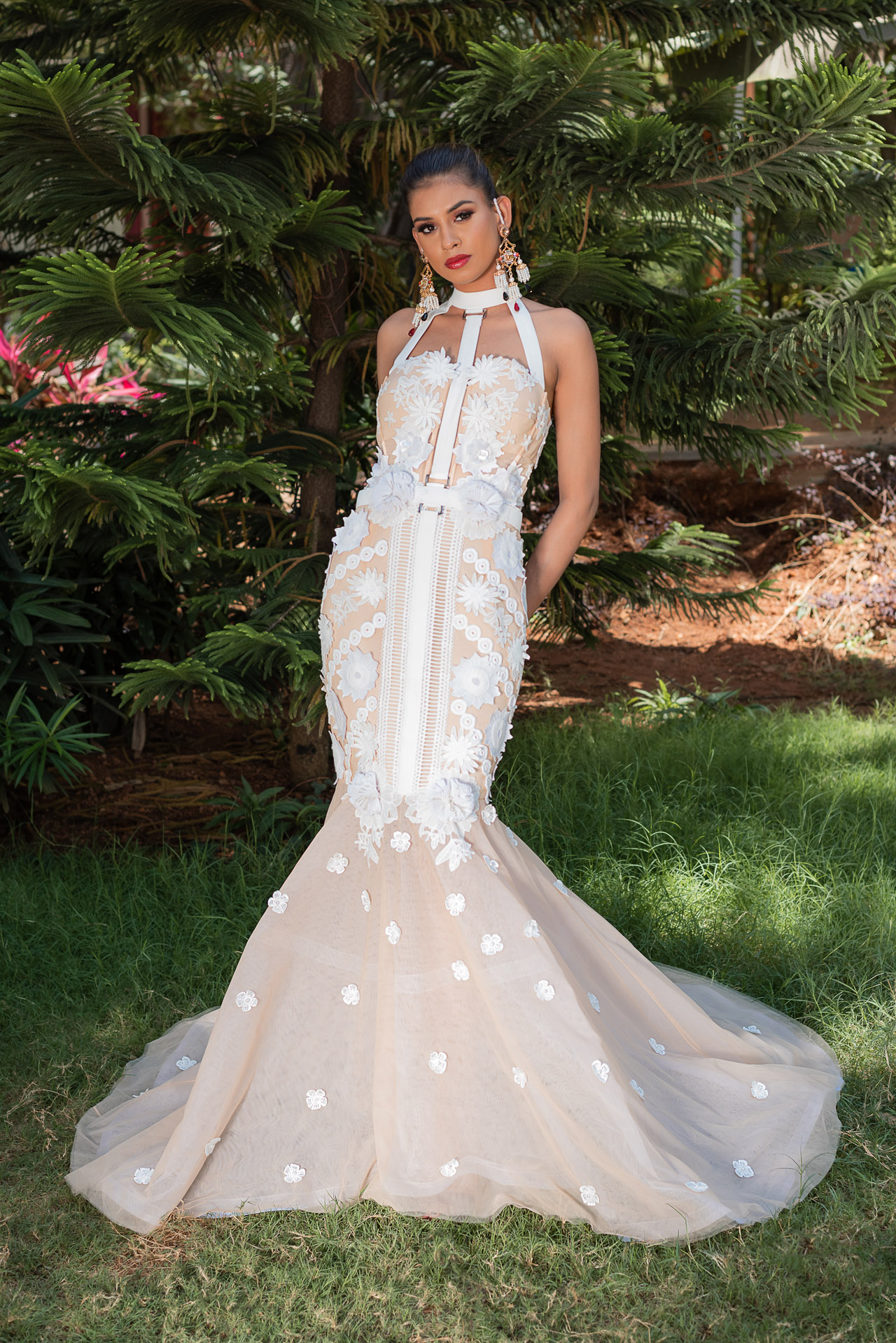 Boosting the style portion with this White and Beige Gown by Alpana and Neeraj. The striking color combination with delicate embroidery is the perfect attire to embrace your occasion.
Style tip:- A pair of Crystal drop earrings on you will be praised.
5. ALINE GOWN
An excellent choice will be blending subtle and extravagant together and this Aline gown solves the query, is by Aarti Mahtani. You will be the Indian Mermaid in a matte peach tint silhouette.
Style tip:- Flaunt your look with layered crystal-studded earrings.
6. SEA BLUE GOWN
Be seismic chic with this Sea blue gown by Ishan Shravika. A classy silhouette with blue embroidery will be the perfect pick for your cocktail nights.
Style tip:- A pair of Chandelier will glam up your glance.
7. BLACK STRAIGHT FIT GOWN
An elegant and drowsy sweetheart neck gown with one side slit is a stunning choice for you from the label Sonaakshi Raj.
Flaunting your wavy waist with the cutout waist detailing makes the dress astonishing and brings out your exotic charm.
Style tip:- Beautify your look with a statement jewelry set.
---
Explore every of your hidden beauty with our tempting variety
Log in to our official website – www.datetheramp.com to browse the complete collection, and book your order.
Follow @datetheramp on Instagram for updates!
Comments
comments