Since wedding seasons are up and in full punch, what to wear remains an eternal question. The bride is as much worried as her friends are. But, gone are the days when the whole family had to sit down circling a vendor for a never-ending show of a variety of saris and finally, from a heap of clothes, pick just a few. Do not worry. Date The Ramp is here to help you. Well, not just help, but actually fulfil your dreams of adorning yourself in a designer lehenga. Not only that, you do not even have to stuff it in your cupboard forever and never wear it again because, we take that load off as well. Rent it, wear it, return it! And, you also pay for what you keep! I mean, how awesome is that?!
So, I have picked up some of the best picks from the DTR collection for your wedding to be legen-wait-for-it-dary!
1. The Red Wedding.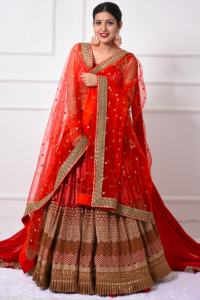 Hello, beautiful! If you are having second thoughts to get married, try this on and look how you eagerly you wait for the wedding day then! Thread-embroidered lehenga in a soothing shade of red with embroidery works accompanying the border of the dupatta and the blouse- this is a whole package! This Red Chunnat Lehenga is one stunner!
2. Slaying the Wedding.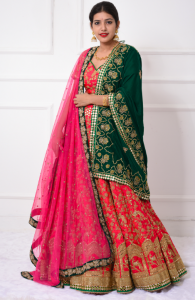 Who said you cannot look hot and beautiful at the same time? This lehenga surely strikes off that line of thought. Clad with two different coloured dupattas, this Hot Pink Lehenga has to give you the heads-up for the wedding! Wear one of the dupattas above your head and another on you and look how all the eyes rest on you with admiration.
3. The Royal Fiesta.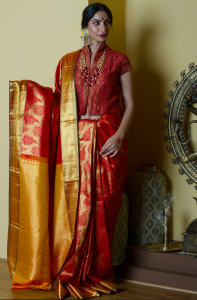 For some of us, wedding are a serious business and not everyone likes to be all fun and frolic in their wedding. So, here's a touch of a regal vogue for the brides who want to keep it classy and sophisticated. This Red Kanjeevaram Sari with zari work is a work of finesse and is perfectly fit for occasions where you have to show off your majestic aura. The Paisley designs on the field of the sari adds to its ethnicity.
4. The Ultimate Beauty.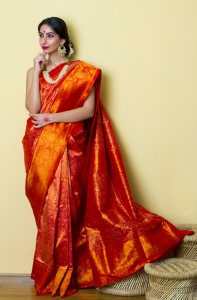 Look like a Patola in this Red Patola Saree! Same word, same elegance, different meanings. The gold zari base reflects light off of it and the typical thick border runs throughout the length of the sari. Pull off The Queen in your wedding and speak no more because the sari speaks for itself.
Comments
comments