Raksha Bandhan is an auspicious occasion for every brother and sister out there. A day when we make promises of our forever relationship and responsibilities. A day when we embrace our bonds, our fights, our every ounce of love. DateTheRamp will love to be a part of your festivity and will be mesmerized to embrace your celebration with our collection.
1. MINT GREEN EMBELLISHED GOWN WITH JACKET
Are you looking for something comfortable yet extraordinary? This mint green gown is perfect for you, from the label Taavare. Featuring a pastel mint gown with a ruffled silhouette in the lower bodice, with an attached jacket in the same color. The golden embroideries of the jacket make this outfit your top-notch selection.
Style tip:- Elevate your look with a pair of statement stud earrings.
2. FOIL PRINTED ANARKALI
Are you wishing for an Anarkali with a little more ethnicity? Well, nothing can be more perfect than this Foil printed Anarkali, from the label Salian by Anushree D. Spotlighting a flared Anarkali in a mustard yellow hue, with golden and contrast blue embroideries on the upper bodice. The golden prints are very subtle. The real eye delight is the blue net dupatta, which will make your festival look more graceful.
Style tip:- Make your ethnic look more perfect with a pair of heavy crystal-studded drop earrings.
3. BROWN SHADED GOWN
If you fancy a subtly elegant attire, we have this perfect pick for you. A brown shaded gown from the label Swapan and Seema. Featuring a flared gown in a classic brown hue. The thread embroideries and sequins are a piece of art. A hunky dory choice for your promising celebration.
Style tip:- Accessorize your look with a pair of layered pearl earrings.
4. BEIGE KURTA SET
Are you looking for something tender and subtle? Your words, our duty! Featuring a magnificent beige kurta, by Prathyusha Garimella, with golden gotta work on the neckline and rim. The dupatta is the head turner of the whole outfit with heavy floral embroideries. The full-sleeve kurta is very comfortable to carry and will give you a subtle look.
Style tip:- Beautify your look with a pair of crystal-studded tassel earrings.
5. LILAC BUTTA ANARKALI SUIT
Are you tired of carrying heavy ethnic looks? Well, problem solved! A pleasing to the eyes Anarkali from the label EASE. A flowy fabric in a fancy grey hue with soft embroideries of katana motifs. This rich lilac Anarkali will add oomph to your ethnic glimpse.
Style tip:- Keep your chin up with a pair of chandeliers.
6. CRIMSON SUIT WITH BELT AND DUPATTA
Making a list of ethnic attires, the Anarkali always stands on top. Let's make your top choice more fascinating with this luxurious pink Anarkali, by Anju and Anushree Agrawal from Smriti Apparels. Marking an incredible Anarkali in chanderi fabric with a detachable belt. The heavy golden embroideries on the rim and the net dupatta make this attire an epitome.
Style tip:- Steal the spotlight with a pair of gold teardrop earrings.
7. BROWN TOP SKIRT AND JACKET SET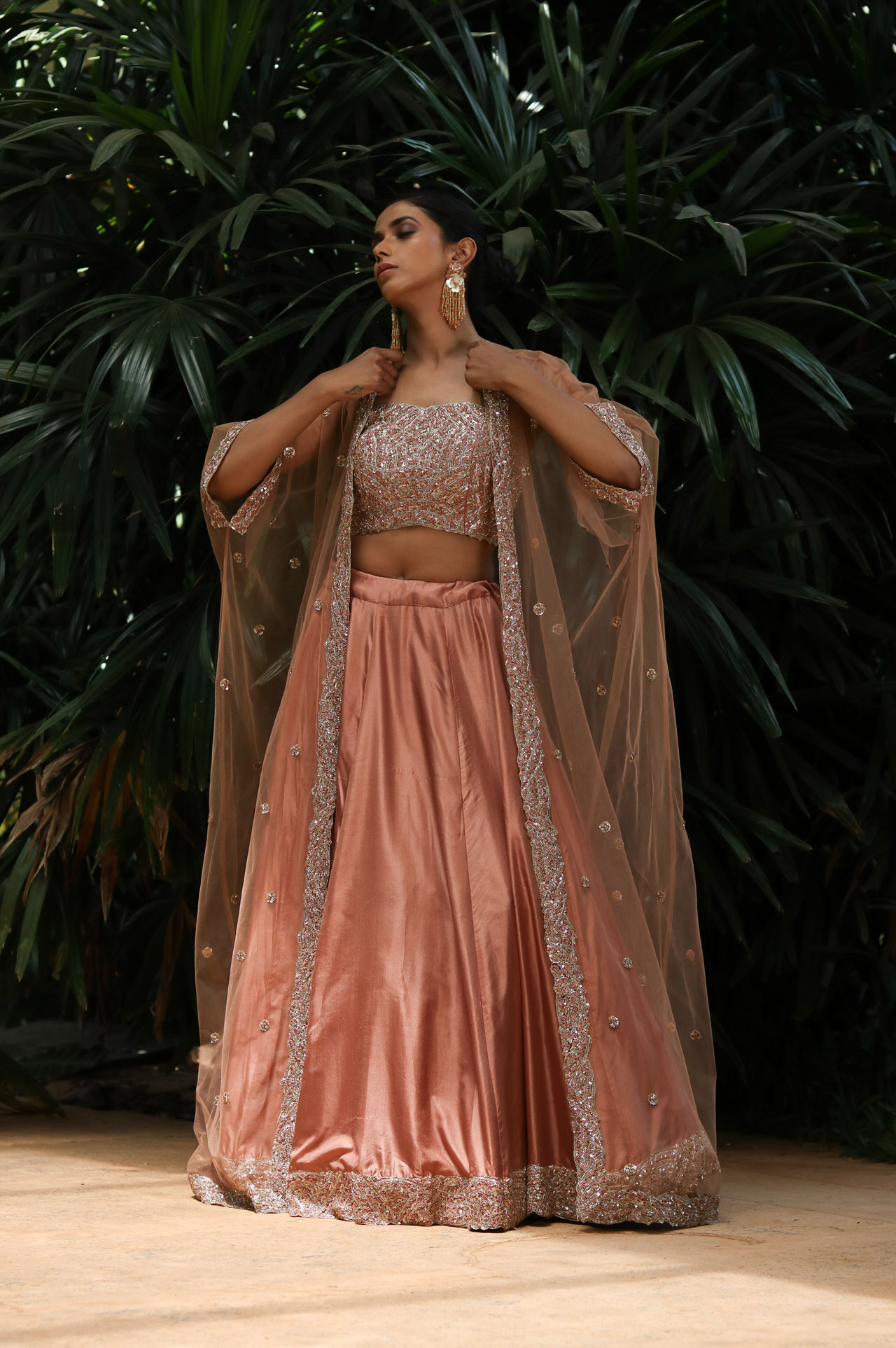 Light up your festive days with this dazzling top skirt set, from the label Pleats. Marking an Andorra brown top-skirt set. The fully embellished top will give you a ravishing look. The jacket is the lead character and the absolute show stopper.
Style tip:- Dazzle up your gaze with a pair of crystal-studded tassel earnings.
8. ROYAL BLUE CRINKLED SKIRT AND TOP SET
Let's drown together in the aura of ethnicity and dress as beautifully as our festivals. Calling attention to a royal blue crinkle top-skirt set, from the label FAABIIANA. A flowy skirt with golden motifs and a matching dupatta, what not to love. Bring the jovial vibe with your every step.
Style tip:- Beautify your look with a pair of jhumkas and matching maang tikka.
Make your precious moments rememberable with us and our fascinating collection.
Log in to our official website – www.datetheramp.com to browse the complete collection, and book your order.
Follow @datetheramp on Instagram for updates!
Comments
comments