DateTheRamp is excited to present beautifully embroidered Anarkalis and kurta sets in the city famous for Zari embroidery. To all the people of Bhopal, not only the lakes will be the sight of beauty, but so will you all.
1. OLIVE GREEN ANARKALI
Are you looking for a mesmerizing Anarkali to attend any event?? Well, this Anarkali will be the perfect pick.
Featuring Seema Khan's one of the finest olive green Anarkali. Gold embroideries, sheer shoulders, deep V- neckline, and glamorous flares. What not to love? The golden scallop border embroidered dupatta is like icing on the cake.
Style tip:- Customize your outfit with Crystal drop earrings.
2. MUSTARD BUTTA ANARKALI
Want to brighten the festive vibe? This mustard charm is the perfect pick, from the label EASE. Spotlighting a low neckline, sleeveless Anarkali in mustard hue. The subtle flower embroideries will give you an elegant and soft look. The flowy fabric is lenient and easy to carry.
Style tip:- Accessorize your outfit with a pair of chandbalis.
3. GREEN YOKE ANARKALI KURTA SET
If you are the bright star of styles then, no one can stop you from exaggerating this beautiful green kurta set . From the house of Shyam Narayan Prasad, a top-notch beauty. Featuring refinement of the yoke embroidery at the neckline in a sharp green hue.
Style tip:- Pair your outfit with a pair of heavy earrings.
4. YELLOW CHANDERI PRINTED KURTA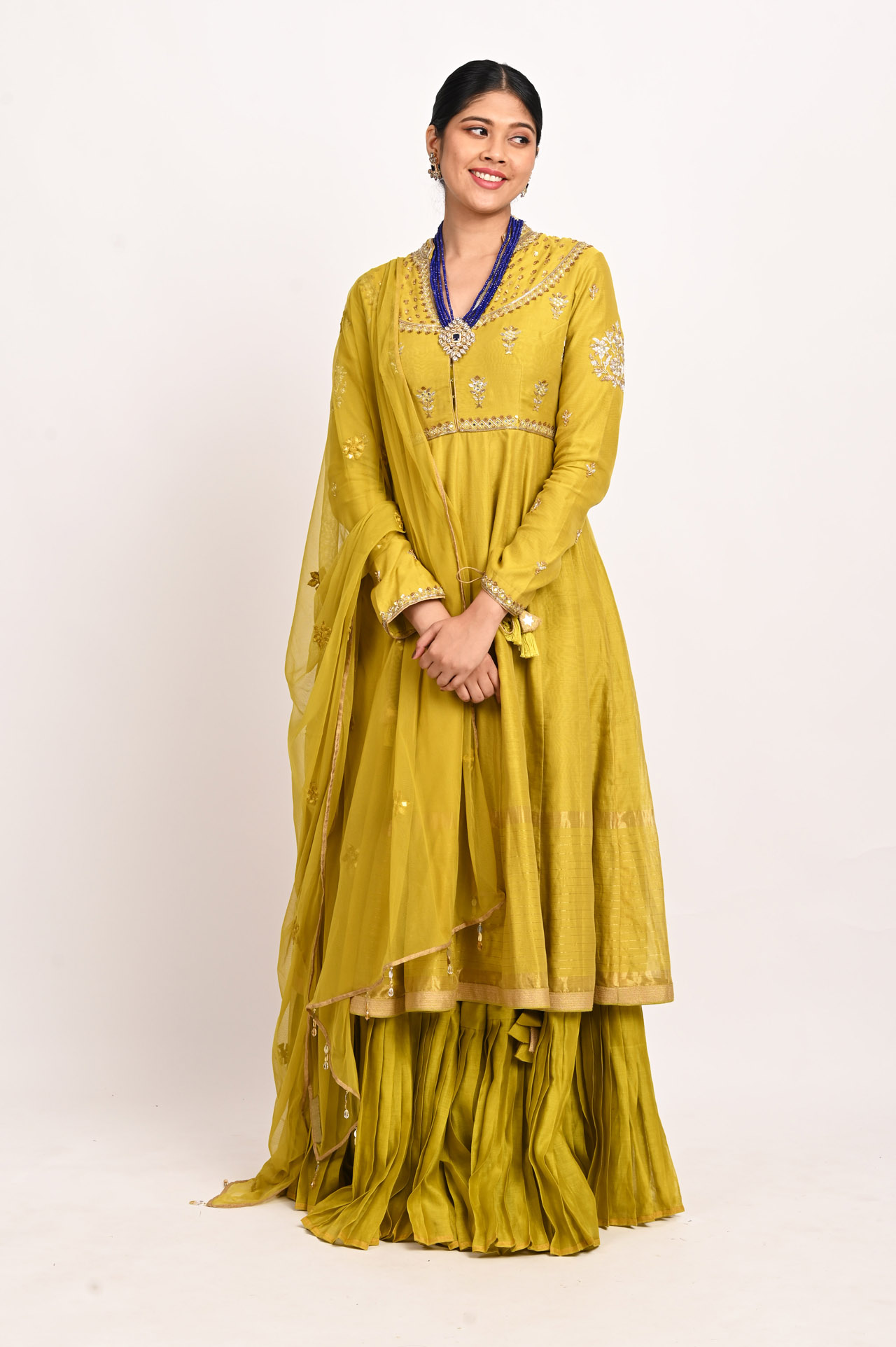 Want to keep it traditional and chic at the same time? Grab this yellow chanderi printed kurta from the label, RAR. It is one of kind couture comprising a yellow chanderi kurta with light embellishments, a skirt, and a dupatta. A perfect pick for any classy occasion.
Style tip:- Elevate your look with a pair of crystal-studded statement earrings.
5. ORANGE AND PINK ANARKALI GEORGETTE SET
Be the prettiest chic and a goddess at the same time. Karieshma Sharma's creativity is a divine beauty. Enveloping subtle pastel shades with floral embroideries, in georgette fabric. Best pick to attend any day events.
Style tip:- Accessorize your look with a pair of Kundan embedded hoops.
6. IVORY EMBROIDERED KURTA SET
Are you looking for an elegant piece of work? A glorifying kurta set from the label Mandira Wirk. Features sharara pants, ivory embroidered kurta, and a dupatta. The embroidery is making this outfit nothing less than heavenly.
Style tip:- Adorn your look with a pair of chandeliers.
---
Tap and rent your favourite from this beautiful collection
Log in to our official website – www.datetheramp.com to browse the complete collection, and book your order.
Follow @datetheramp on Instagram for updates!
Comments
comments