We all have grown up hearing fairytale stories and dreamt to wear that princess outfit once in our life. With DTR you get a chance to become the modern princess with our exquisite‍ collection.
1. BLUSH NET LEHENGA
Desiring a dreamy silhouette? Papa Don't Preach got a solution for you with this Blush net lehenga. A dreamy layered lehenga for you with the golden embroidered net upper bodice. A contemporary way for you to rule the crowd.
Style tip:- Elevate your look with a pair of statement earrings.
2. BROWN TULLE GOWN
Want a tempting twist for your pre-wedding photoshoot? This Brown Tulle Gown is here from the label Amit GT. This gown features a sweetheart neckline, cap sleeves along with a lacy overlay, and unique drapes in a dainty delicate fabric. Perfect western tulle for capturing your perfect moment.
Style time:- A pair of Chandeliers will be good to go.
3. BLACK AND IVORY 3D EMBROIDERED GOWN
Want something out-of-the-box with a sultry silhouette? Well, Tamara by Tahani has brought something extraordinary for you. A plunge neck black and ivory gown with embellishments on the upper bodice. A tempting red carpet gown for you!
Style tip:- A pair of layered stone-studded earrings will go perfectly.
4. EMBELLISHED FULL-LENGTH GOWN
Always dreamt to be Cinderella one day? Well, dreams come true with this white beautiful Gown by Aparna S. This gown features a corset silhouette with ethnic embroidery all over. Flaunt your tulle with every step.
Style tip:- Stone-studded drop earrings will give you the perfect glimpse.
5. BEIGE GOWN
When subtle and dreamy is your taste. Then this Beige gown from the label Rocky S. is the perfect choice for you. The V-neck embellished upper bodice gown in a perfect pastel shade is an absolute stunner that will add oomph to your look.
Style tip:- A pair of statement earrings will be perfect.
6. GOWN WITH A BIG SEQUIN FLOWER
The white epitome is a perfect pick for you if you don't settle for less than extraordinary from the label Gauri and Nainika. A layered white gown with a big flower sequin on one shoulder. You will be the head-turner of the mob with this glamour.
Style tip:- Small stone studs will be perfect.
7. MAUVE DUAL-LAYER GOWN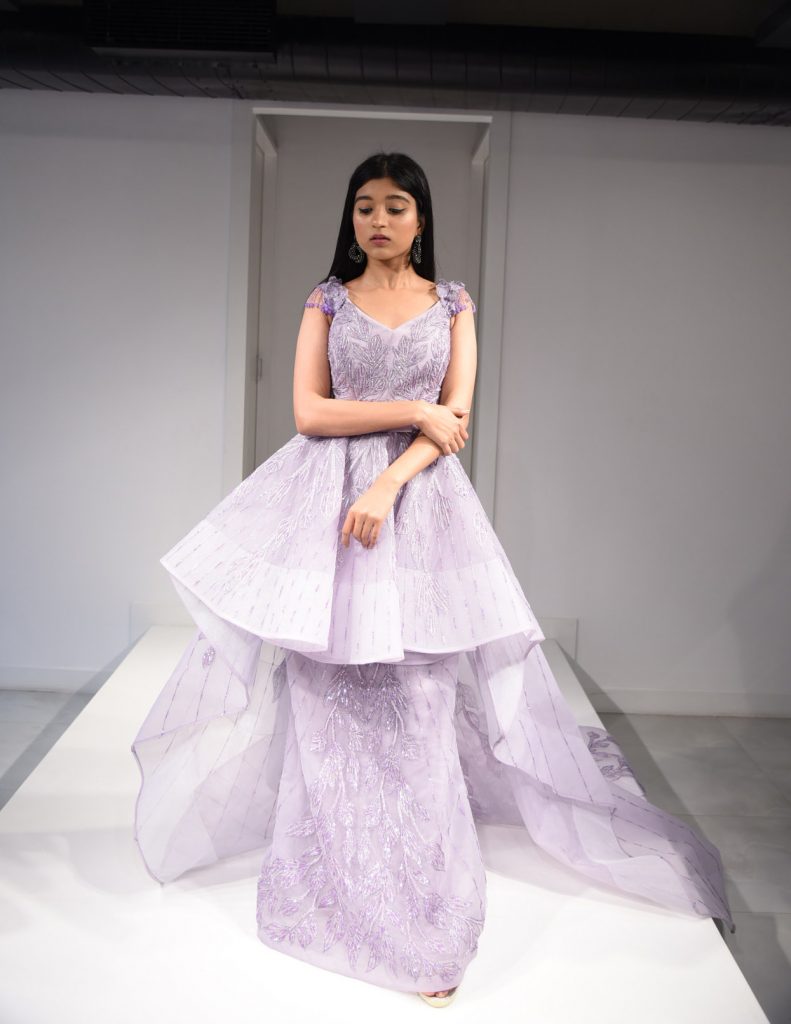 Don't panic about the perfect dress for your reception party? We got it solved with this Mauve Dual-layer Gown from the label Amit GT. A top-notch alluring gown completely embroidered will give you a magical feel.
Style tip:- Accessorize the gown with stone-studded drop earrings.
Write your fairytale stories with a dreamy tulle.
Tap and Rent your favourite attire
Log in to our official website – www.datetheramp.com to browse the complete collection, and book your order.
Follow @datetheramp on Instagram for updates!
Comments
comments