How many of us are guilty of 'twinning' with our best friend? It may have began by accidentally wearing a similar printed footwear or innocently matching a piece of jewellery. But none of us really predicted this to become such an endearing trend in the future. Ideally this shouldn't be that surprising, after all most of our shopping sprees are with our besties! And don't we all seek inspiration from the ones with whom we share and cherish our deepest desires? 
While the 'twinning' experience on a day to day basis entail heaps of fun filled moments and garners universal affection, why not take it up a notch by incorporating this in special occasions as well? Once upon a time, wearing same outfits to a gathering resulted in one being subjected to unworthy ridicule. We have come a long way since then. Before it was unintentional but now this very act is considered chic and in vogue.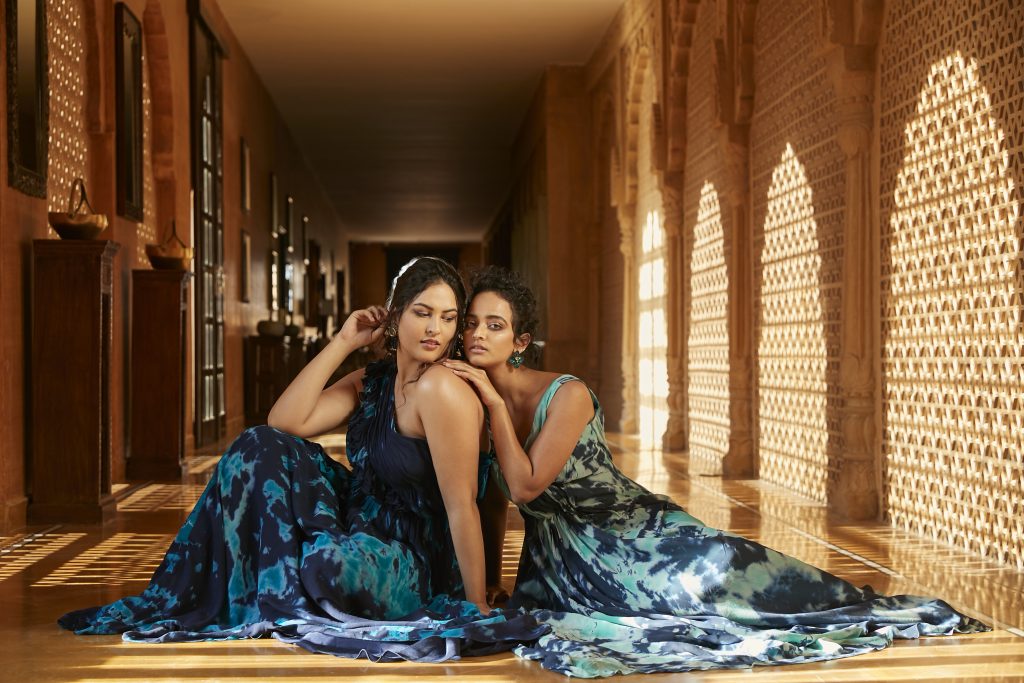 The term 'twinning' doesn't necessarily symbolize the act of duplicating an attire or accessory. We can twin with our BFF in creative ways such as wearing similar colour combination outfits, matching motifs or prints and at times even following a certain style can really hit it out of the park. Keeping this viewpoint in consideration, let's take a look at some of the twinning opportunities recommended by Date The Ramp that will leave us (and our bestie, of course) spoilt for choice.
THE VERSATILE DUO
For all those family functions ranging from culturally diverse festivities to engagement ceremonies, Date The Ramp offers a sea of options to choose from. Whether one opts for feather light yet intricately embroidered sarees by Queens Emporium or a classic golden grey lehenga set by Shyam Narayan Prasad which paired alongside the rose gold embellished white lehenga, truly amps up the matchmaking game.
FOR THE LOVE OF NEUTRALS
Mehendi and sangeet events usually calls for glam defining fashion but user friendly at the same time. We want to look our very best and yet rock the dance floor as long as the music keeps playing. The grey toned Papa Don't Preach top and skirt sets or the lilac and beige numbers by Aparna S ensures that us besties are always in sync with our fashion statement as well as dance movements.
THE CONVENTIONAL GLAM
Despite our understated preferences at any given instance, wedding protocol dictates that we do not shy away from traditional glitz and glamour when it comes to selecting an outfit for bridal occasions. Indian weddings are especially known for their majestic grandeur and fashion plays a very significant role in this scenario. The golden brown silk and georgette lehenga by Sawan Gandhi or perhaps the decadent maroon corset lehenga by Aparna S speaks volumes when it comes to making a bold statement. However, the ivory chanderi lehenga by RAR and brocade suit by Aparna S are great alternatives for a more soft glam look.
THE BOLD AND THE BEAUTIFUL
While the wedding frenzy comes to an end, the cocktail parties and reception guarantees an ongoing affair of celebrations. This marks the test of any twinning episode as everyone tends to go all out by opting for shimmer and glitter oriented outfits naturally. It definitely requires a certain level of innovation and strict adherence to a theme. One's choice may incline towards monochromatic colour scheme like the black evening gowns by Sonakshi Raaj, Amit G T and Dev R Nil respectively or the golden embellished one-pieces by Global Collection that sets the tone for any party.
All said and done, friends who slay together, stay together. It's that simple. Don't you agree?
P.S. Don't forget to let us know your favourite twinning selection from Date The Ramp in the comment section below.
Comments
comments