---
Oh my God! It's already August and the party season is up and I have nothing to wear. Let me see..umm..it's all old, I have already clicked pictures in this one, this one feels cold, this one is too loose, this one doesn't make me look adorable. I also want to look cute. So much to decide and so little time.  There there, you! Do not worry. DTR has a good collection of pretty party dresses that will just give you the right kind of vibes for your fun and frolic.
What's a party without some pink?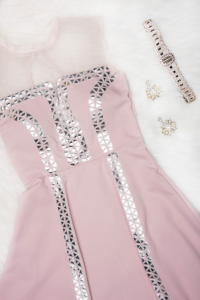 I mean, this is like a go-to party dress for so many reasons- silver appliques, organza gown, a pretty headband and complementing earrings. Without second thoughts, this ensemble is a perfect pick for you to keep the party shiny and glamorous.
Get a little extra!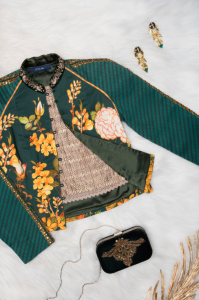 JJ Valaya has gone an extra mile for this royal jacket with floral print on a military green background. This has been coupled with a complementing clutch and a shiny crop top with matching earrings. This is perfect for you if you want to stand out in the crowd. Pair this up with denims and you're super good to go!
Gold is timeless.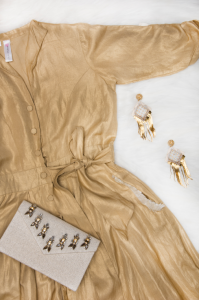 With a touch of antiquity, this Shimona Shirt dress embraces the beauty that stays even after the party is over. If you want to throw some elegance around and be remembered for it, this is your perfect go-to ensemble. This, I assure, will never go wrong. Plus, the complementing accessories will turn the maximum heads that day. 😉
Age like Wine.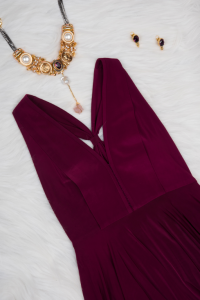 Simple, stylish and graceful. You can trust this Wine Lust Combo with your party since it is not very flashy but displays the party spirit in you. Paired up with heavy accessories, this focuses all the attention to you completely.
Black doesn't require an advertisement!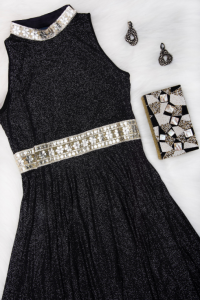 Does it? It's all good when it's black. JJ Valaya strikes the chord again. With a golden waistband tied to the Black Gown and with a complementing clutch and pretty earrings, this ensemble easily stands out with an everlasting impression.
Comments
comments