Popular Questions
Introduction
What is DateTheRamp all about?
DateTheRamp lets you rent out authentic designer clothes and accessories for a fraction of the original price.
1. You get to choose what you want and for how long you want it.
2. Once you order, leave the rest to us. Our stylists ensure a perfect fit and spotless fresh clothes.
3. We will hand-deliver and pick-up the garment from you once you're done wearing it.
4. All you have to pay is a small rental fee (and a delivery fee, if any). You might also have to pay a reasonable security deposit which will be refunded to you right after we pick-up the product. Click for details.
And all of this, sitting in the comfort of your home!
So what are you waiting for? Sign up now for a lifetime of designer fashion!
Why should I use DateTheRamp?
It is the easiest, fastest and the most cost-effective way to get yourself designer fashion.
* With designer clothes you can look great, just like your favorite celebs. Live the celeb life!
* Authentic designer wear is truly different. You have to feel it once to understand it, and DateTheRamp helps you do it easily. Go designer!
* How embarrassing is it to be caught wearing the same thing again? That is one oops moment nobody wants! With DateTheRamp, every occasion is something new. Never repeat!
* Ever wonder how you would feel in a JJ Valaya lehenga? Or a Paithani saree? DateTheRamp makes it easy to find out. Explore yourself!
* In the mood for something new? Get unlimited options to easily try. Get experimental!
* Why wear replicas when DateTheRamp makes genuine designer so easy. Go authentic!
Rent or Buy: When should I rent something? And when should I buy it?
What do you do when your wardrobe bores you or doesn't have what you like? Happens to the best of us. You probably look for new clothes online/offline. But a new purchase every time will probably burn a gaping hole in your pocket! In this very case, renting out seems like your best bet and DateTheRamp's gladly at your service.
But if you see yourself renting out the same item over and over again, you should consider buying it altogether!
Are the products on DateTheRamp available for buying?
No. The whole concept of DateTheRamp is to provide a way to rent out these products so you don't have to spend a bomb on a single event. They aren't available for buying! But if your heart's set on something from our catalogue, we will gladly put you in touch with the designer contact.
How do you guarantee authenticity of the product?
We understand your Shaq but we go to great lengths to make sure every single product on our catalogue is authentic. This is why we purchase everything directly from the designers. There is no middleman involved. We personally hand-pick our collection from theirs and don't just order online. If you still have koi Shaq, you are welcome to verify the same with the designers directly.
When can I use Date The Ramp?
I have to go for a destination wedding. Can I turn to DateTheRamp?
Destination weddings are an invitation to dress up and look your best. Of course, we wouldn't want to stand in the way of that. You can extend your pickup date (subject to availability) and have a fun wedding! For each extended day, you will be charged 10% of the rental value. We will pick it when you get back to base. 🙂
I want to try out a new type of dress from your collection but I don't have an occasion to wear it to. Will DateTheRamp's service be worth it?
Oprah rightly said- 'The biggest adventure you can take is to live the life of your dreams'. We back that up with a huge catalogue to choose from. Our inexpensive, customer-friendly service will make it worth turning all your dress-up dreams into reality! After all, what's life without some adventure? 🙂
I want to prepare a modelling portfolio and need a few dresses for the photo shoot. Can I trust DateTheRamp?
Absolutely. DateTheRamp offers picture-perfect dresses but you've been warned! You'll find it difficult to choose just a few. 😉
My best friend's wedding is few days away and the dress I was planning to wear is damaged! Is it too late to try DateTheRamp?
We're sad about that happening. Don't worry! DateTheRamp has you covered. We have no control over its availability but we do have a huge variety to choose from. Browse through our site and once you find the perfect dress, use your pin code to find out the latest available dates. Depending on pincodes, the latest delivery dates can vary. Order and we'll ship it out for you right on time.
I have a colour-theme party coming up next week and I don't want to buy a new dress just for one party. Is it a good idea to try DateTheRamp?
If there was any perfect time to DateTheRamp, this would be it. Themed parties are all about how well you can dress up a hue. Browse our collection and choose a colour filter that suits your party's theme. Voila!
Order Flow
How does it work?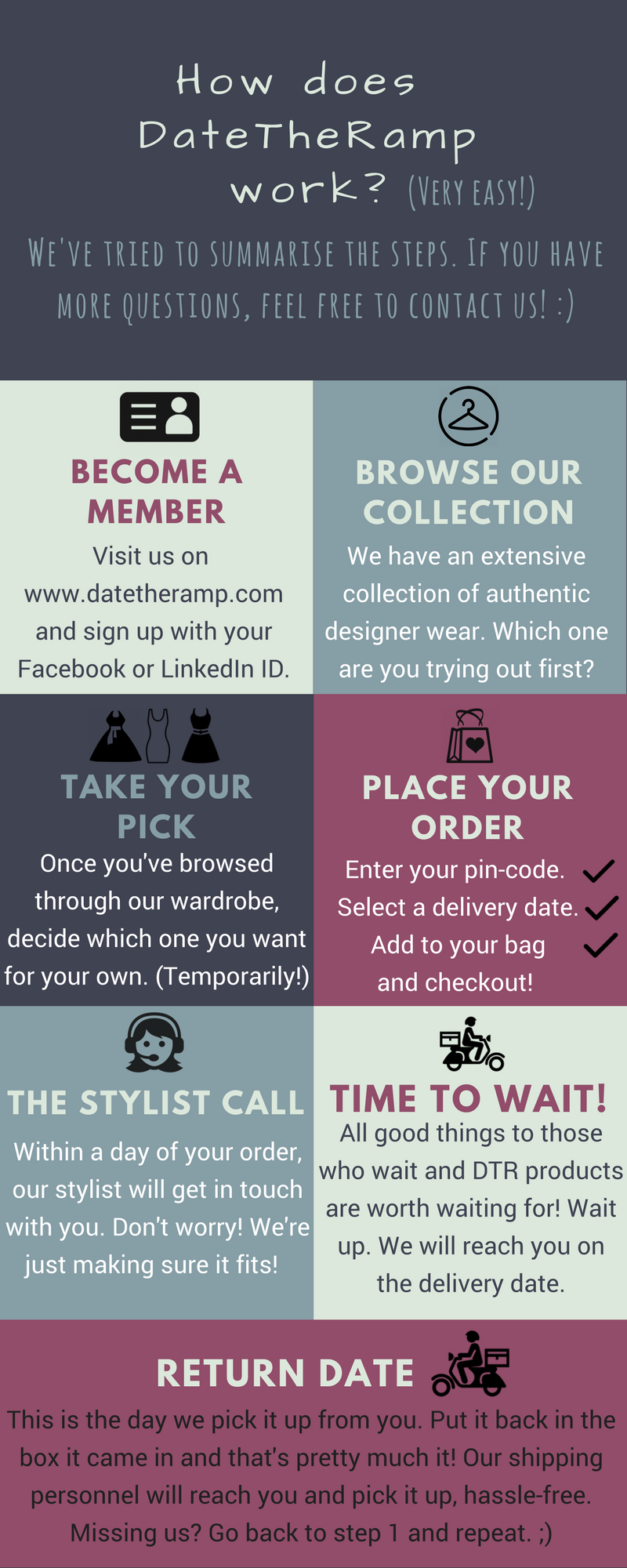 Membership
How can I become a member?
Becoming a member here is very easy and *drumroll* free! Visit us at www.datetheramp.com and sign up!
Why should I become a member?
For using entirety of our service, you need to sign up. It helps us serve you better.
Do I have to pay a membership fee?
Nope. Membership is very much free. 
Services
How do I use DateTheRamp?
Decided on your garment? Pretty much a straight road from here. Just enter your size, pin-code and date of delivery, add it to bag and confirm your order with your address. You will receive a stylist confirmation call soon after!
Why is the product not available for the date I want?
DateTheRamp works on a first-come, first-serve basis. If someone else has booked it for the same dates when you want it, it's no longer available during those days!
How many days before my function can I order?
You can order as early as 90 days prior to the required delivery date or as late as 2 days (for some pincodes) before the delivery. Use your pincode to find out the latest available dates.
Do I have to pay extra if I order at the last moment, or book very early?
Of course not! If you've come to us in the last few minutes, we wouldn't want to make things worse. Order early or late, the charge will be uniform throughout.
Can I fix the time for when I want the delivery/pickup to take place?
Yes! Our delivery team will get in touch with you and you can discuss whatever time is suitable for you for the delivery/pickup any time between 8am and 9pm. 
For how long can I keep the product?
You can keep the product for 3 days: the delivery day, 1 full day, and then pickup day. You can also extend the order according to its availability but we will have to charge you for it 🙁
Can I choose to keep the product for longer and extend the pickup date?
Yes. We totally get if you fall in love with a product you ordered and want to wear it longer before you can let it out of your sight. Fortunately, we provide for an extension service (subject to availability) and all you have to do is extend your delivery date or get in touch with our stylist! For each extended day, you will be charged 10% of the rental value.
Can I reschedule the delivery/pickup date?
Yes! You can reschedule delivery/pickup, subject to availability of the dress, either online or by contacting us.
What happens if I cannot return the dress on the pickup date?
If, for any reason on your part, you can't return the dress on the pickup date, we will have to treat it as an extended delivery and charge you accordingly. 🙁
Money-Payment-Deposit-Damage-Refund
What do I have to pay?
Along with the rental fee, you might have to pay a refundable security deposit which can range from Rs. 0 to MRP of the product. Our stylist will communicate with you about how much deposit you'll have to pay.
Why is there a security deposit?
We hand over valuable products to you at a fraction of the price. Security deposit is required because while trusting you, we need to be cautious. Your deposit is 100% refundable!
When do I have to pay?
Payment is always After Delivery – only after you've tried and are happy. If you plan to extend your rental period, you'll have to pay the extra charge on the actual pickup date.
How do I pay?
Bappi Lahiri won't do! Only cash will be accepted.
When do I get my security deposit back?
Your security deposit will be refunded via bank transfer which is initiated within 72 hours of pickup of garment.
Do I have to pay for the shipping charges?
Depending on your location, shipping may or may not be free. We'll let you know when you place your order.
Do I have to pay for cleaning?
DateTheRamp takes over cleaning and upkeep of the garment so Hema, Rekha, Jaya and Sushma can take a break! We do expect our customers to exercise caution regarding the dress but we do understand that stains and spills happen. Please don't try to clean the garment off its stains by yourself. We have trained professionals to do it for you!
What if I damage the product?
Damages are unfortunate incidents for you and for us. We understand that wear and tear is unavoidable and hence, in the immortal words of SRK, 'Bade bade Deshon mein, aisi choti choti baatein, hoti rehti hai!'. To encourage you to continue your fashion endeavours, we charge no fee for damages right now. We assume that any damage caused is truly accidental and not due to carelessness.
DateTheRamp promises to provide quality products at a minimal rate and does expect responsible use of our products. We can continue providing our service with the tension-free no-penalty feature only if all of us are responsible!
Fashion-Fitting-Hygiene
What is a Stylist Call?
An expert opinion on how well our products will look on you? Can't say no to that. To ensure that you make the best of your order, we have experts ready to assist you to look your ramp-ready self when you DateTheRamp. Within 24 hours of placing the order, you will receive a call from our stylist who will inquire about your measurements to ascertain the right size for you. The stylist will confirm your order and be your point of contact. You can get in touch with the stylist for any help!
How soon will I receive my Stylist Call?
Within a day of you placing the order.
What do I do if it doesn't fit me?
DateTheRamp has experts to assist you to find the perfect size for yourself. Within 24 hours of ordering, you will receive a call from our stylist. The stylist will ensure that your order is customised to your fitting. We also allow trials on the date of delivery before you pay for the product. So if you find that the product doesn't fit you or doesn't suit your taste, you can cancel the order on the spot, completely free of charge!
What do you do to ensure that the dress fits me?
Loose sleeves and ill-fitting clothes are so yesterday! Nothing beats a perfect fit and we try to ensure that you have it. We know that you know your size but different designers view conventional sizes differently. We want you to look your best on a special day!
Our stylist will give you a call within a day of placing your order just to make sure you chose the perfect size. Minor alterations may be done, and we specifically make height adjustments wherever possible. We will also make our best attempts to throw in a backup size in case the stylist feels the need to, depending on the adjacent size's availability.
Now that the fit has been taken care of, all you need to do is think of ways to accessorise!
Can I try out the product before I pay for it?
Absolutely! Our delivery service lets you try out the product before you pay for it and keep it. If you don't find the garment to your liking, you can send them right back. If you don't accept and use the product, you don't have to pay anything.
Can I alter the product to fit my measurements?
No, please! Any alteration made to the garment will be treated as intentional permanent damage and you will be held liable accordingly. Please refrain from altering any garment and keep in mind that this is a rental service.
How does DateTheRamp guarantee hygiene?
DateTheRamp makes sure that the quality of the product you receive is always top-notch. Each product undergoes a well-integrated hygiene process after it comes back from a customer and a quality check before it is sent out to our next customer.
We run several tests like an odour-check, spot/stain-detection, alteration etc. Categorising the product according to what it requires, we send it out to different stations for treatment.
Our products then go through an intensive cleaning process (wet-cleaning or dry-cleaning, depending on their fabric). Once cleansed of all odours, spots and stains, we sterilise each product with steam, iron them out and send them back to the stock-house to be stored.
Once we receive the next order for the dress, we run a quality check prior to sending it out, send you a confirmation text about it, pack it in our special box and ship it out! We hand-deliver each box so it incurs no damage even during transit. Rest assured, DateTheRamp keeps quality and hygiene as top priorities so whatever you receive from us will definitely be as good as new!
How do you ensure that the product I receive is free from damage and in perfect condition?
We, at DateTheRamp, definitely don't believe that Daag Achhe Hain. We run a quality check of the garment prior to your delivery date and confirm your order once again after it passes all quality checks by our inspection team. So whatever you receive from us is as good as new!
Will I need to iron the clothes before/after wearing them?
We're thankful that you're offering to but no. We steam-iron all our clothes before shipping so they're all ready for you. Just make sure you hang it up once you receive it and you're good to go! We would prefer you to not try to iron them yourself.
Shipping-Delivery-Pickup
What are the cities that DateTheRamp ships to?
DateTheRamp currently ships to  Delhi/NCR, Mumbai, Bengaluru and Bhubaneshwar/Cuttack.
Will you deliver to a different city if I pay extra?
No and Yes. We'd love to visit your house but right now, we're only open to the above-mentioned places. If you really really want it, you'll have to make a refundable security deposit into our account before we ship, and you'll have to return-ship it yourself. Email us dtr@datetheramp.com or whatsapp 8971549998 or DM us on FB/Instagram to discuss what we can do best.
If I don't receive my Stylist Call, will I not receive my order?
This is highly unlikely because our stylists are ever ready to get in touch with you. If you haven't received a call from us within 24 hours of your order, please contact us on:
Whatsapp: +918971549998
E-mail: dtr@datetheramp.com
How soon will the product reach me?
We know that waiting is the worst part so don't worry! The product will reach you on the delivery date. Our delivery person will communicate with you about the exact timing via a phone call.
At what time will the delivery (and pickup) be made?
Between 8am and 9pm. Our delivery team will get in touch with you about the exact timing.
What do I do on the day of delivery?
Try out the product to see if it fits and suits your liking.

If you choose to keep it, show the delivery person your ID proof (Aadhaar or DL) and pay them the rental and deposit

DateTheRamp!
Can they deliver to my office/neighbour's house/any place other than my home?
Yes, we can definitely deliver to a separate location according to your order but only you can collect the order. Please keep your ID proof (Aadhaar or DL) along with you at the time of delivery and update the delivery address in your order.
Can someone else collect the order on my behalf?
No, our service does not allow anybody else to collect the product on your behalf which is why we need to see your ID proof (Aadhaar or DL) at the time of delivery. To facilitate this, we can also deliver to your office or to any other place according to your order.
Can I change the date of delivery?
Yes, you can change the date of delivery any time before actual shipping (subject to availability). 
How does the pickup service work?
The pickup process is very simple. Just put the product back in the box it was delivered in, watch some TV and open the door to our pickup person. We pick-up the product from your house anytime between 8am and 9pm. The exact timing will be discussed with you via a phone call.
Should my delivery and pickup address be the same?
Yes, that's how we determine where to collect it from! We may be able to pick from a different address, on request.
Cancellation
Can I cancel? How?
You can cancel your order online or get in touch with us, at any point before you receive the product and pay for it. Cancellation is completely free, no obligation!
I have more questions. How do I contact DateTheRamp?
We're still new here. We might not have comprehended your question! Enlighten us. 😀
WhatsApp us at +918971549998
Email us at dtr@datetheramp.com
Or DM us on www.facebook.com/DateTheRamp or www.instagram.com/datetheramp
Thanks, keep changing and keep frequenting DateTheRamp! 🙂