"Should I pick a light work or heavily embroidered outfit for Haldi functions?" is a constant question for the bride and her mates.
Well, we have varieties of options from subtle to stunning to choose from.
1. YELLOW EMBROIDERED LEHENGA
Looking for something to slay in your BFF's Haldi Ceremony? A beautiful yellow delight is here from the label Kavita Bharati. Features a completely embroidered lehenga with a matching blouse and a dupatta.
Style tip:- Adorn your lehenga with a Kundan choker set.
2. BEIGE EMBELLISHED LEHENGA
Want something more dazzling to cheer your sister's ceremony? This lovely Beige lehenga from Tamara by Tahani is in the house. A completely indicated lehenga paired with a stylish blouse is just so beautiful to make it your own.
Style tip:- Beautify your look with Golden heavy Jhumkas.
3. MUSTARD FLORAL EMBROIDERED LEHENGA
A classy tulle from the label Dheeru and Nitika. A perfect pick for you to slay in your sister's Haldi ceremony. An intricacy yet classy pick for you. The blouse with its unique sleeve design paired with a simple dupatta with a black border.
Style tip:- Accessorize your lehenga with a Stone-studded jewelry set.
4. FOIL PRINTED ANARKALI
Tired of carrying a lehenga every time and want to get into something comfortable? This Printed Foil Anarkali is here to do your work from the label Salian by Anushree D. The contrast blue detailing on the upper bodice with a blue dupatta is your perfect choice to celebrate the rituals.
Style tip:- Accessorize your Anarkali with a pair of heavy Crystal Danglers.
5. YELLOW RAW SILK SCALLOPED LEHENGA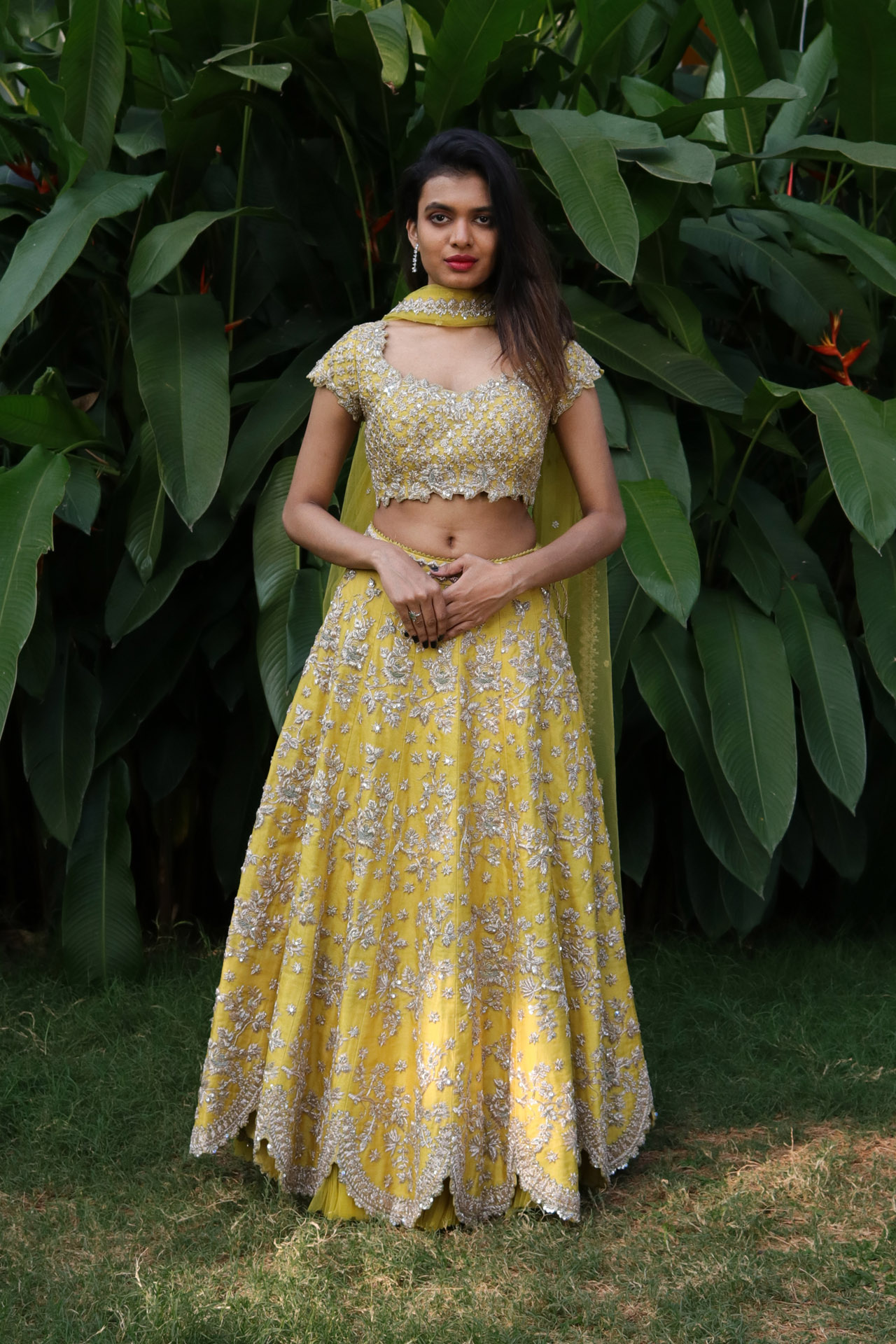 Get your hands on this sweet delight from the label Anushree Reddy. The intricate zardozi hand-embroidered on silk is an epitome of ethnicity. A perfect choice to flaunt your waist with the embroidered lace bordered dupatta.
Style tip:- A pair of stone-studded drop earrings with matching maang tika is good to go.
6. YELLOW CHANDERI HANDLOOM LEHENGA
Steal the spotlight on your Bff's D-Day with this Chanderi handloom lehenga from the label RAR. The embellished layered lehenga with a plunge neck yellow blouse will be your perfect choice. The organza dupatta adds oomph to the couture.
Style tip:- Beautify your look with a pair of Chandeliers.
7. SUNSHINE YELLOW LEHENGA
Your sister's Haldi ceremony is your chance to flaunt your tulle but confused about what to carry? Not to worry we are here to solve your query with this Sunshine Yellow Lehenga from the label Tamaara by Tahani. The intricately embroidered lehenga and the beautiful blouse are eye delight.
Style tip:- Accessorize your lehenga with a pair of classic Kundan stone embellished drop earrings.
8. YELLOW JAAL LEHENGA
Want to look classy and vogue? Steal the spotlight with this offbeat mustard yellow Jaar lehenga from the label Garo. Features heavily silver thread embroidered lehenga with a matching monochromatic blouse. The broad border dupatta adds a little tone to the couture.
Style tip:- Accessorize your dupatta with a pair of heavy danglers.
---
Tap and Rent your favourite attire
Log in to our official website – www.datetheramp.com to browse the complete collection, and book your order.
Follow @datetheramp on Instagram for updates!
Comments
comments